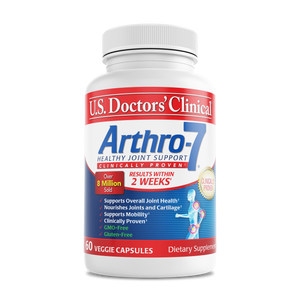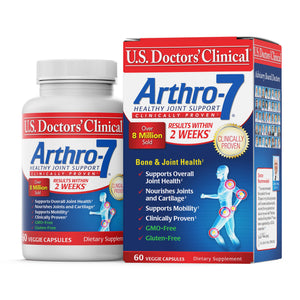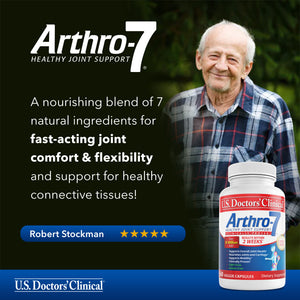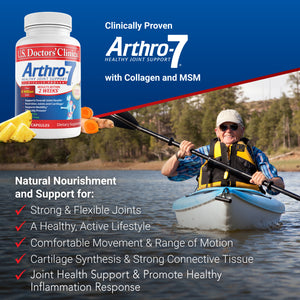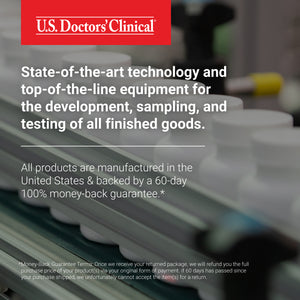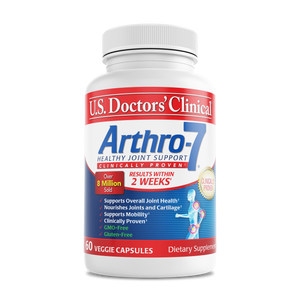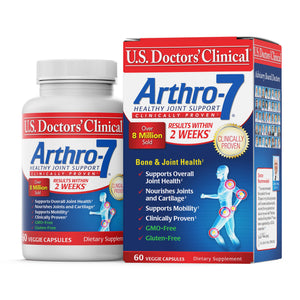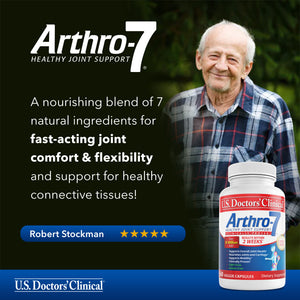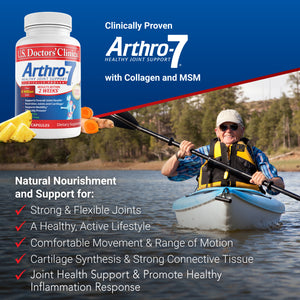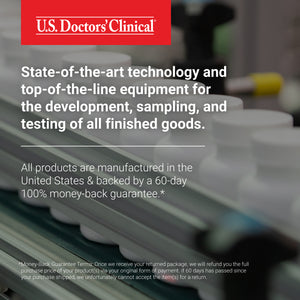 Arthro-7 is proven to significantly improve overall joint health for a comfortable, flexibile, and mobile lifestyle. In a double-blind, placebo-controlled human study, over 74.5% of subjects reported experiencing a significant improvement in symptoms after 12 weeks.
Arthro-7 is formulated with naturally soothing and lubricating ingredients to support healthy & comfortable joints, naturally.*
Healthy Joints for an Active Lifestyle
U.S. Doctors' Clinical uses only the highest-quality ingredients to create a formula that provides ongoing benefits. Arthro-7 uses bioactive sulfur and natural fatty acids to encourage better joint mobility and connective tissue development.* Together, these beneficial ingredients not only support normal joint health conditions, but positively aid the body in maintaining healthy, mobile, and more comfortable joints over time.*
NON-GMO, Gluten-Free Formula
Pursue healthy and comfortable joints with peace of mind — Arthro-7 is formulated without the use of genetically modified ingredients and is free of gluten and shellfish. Furthermore, every bottle of Arthro-7 is made in our cGMP (Good Manufacturing Practices) certified laboratory located in the United States.
Best Selling, Flexibility Formula with Over 8 Million Sold!
Reach your physical flexibility goals and maintain joint health with best-selling formula Arthro-7.
Clinically proven to improve joint comfort and range of motion in as little as two weeks, Arthro-7 is a proprietary blend of seven specially formulated ingredients designed to help support & maintain normal joint tissue and cartilage while restoring mobility and physical comfort through a complex of collagen protein, bromelain, turmeric, and other vital ingredients.
Check Out Our Clinical Study

Arthro-7® is a dietary supplement that has been clinically studied for its effectiveness in relieving symptoms of osteoarthritis with mild to moderate arthralgia, according to research published in Dovepress clinical study.
Try It Risk-Free! 60-Day Money-Back Guarantee
More than 50 million Americans deal with joint discomfort and other conditions affecting their mobility. If you're one of them, or if you're simply interested in maintaining everyday joint health, try Arthro-7® Risk-Free (60-Day Money-Back Guarantee) and see the difference it can make to your quality of life.