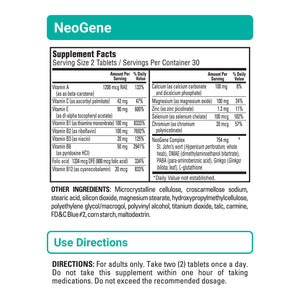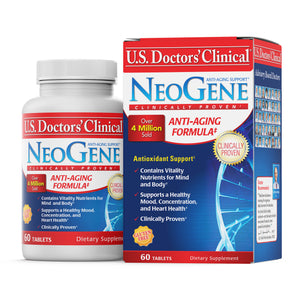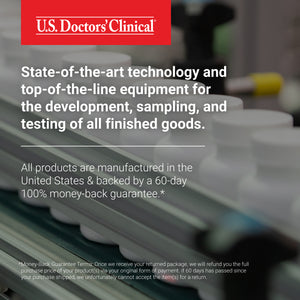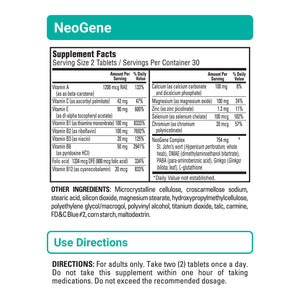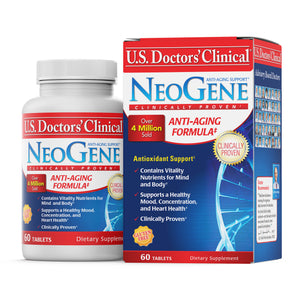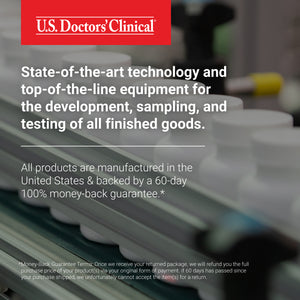 Vitality Formula to Preserve Your Youth
The specially formulated NeoGene Complex utilizes natural extracts and compounds used throughout the U.S. and Europe; the NeoGene formula features 19 antioxidants that aid cellular support and a normal oxidative balance for healthy aging, longevity, and optimal wellness.* Essential nutrients and amino acids encourage physical and mental vitality in active adults, including aiding mental clarity, reflexes, and healthy heart function.*
Antioxidant Support For Improved Cognition
The NeoGene formula features 19 antioxidants that aid cellular support and a normal oxidative balance for healthy aging, longevity, and optimal wellness.* Thanks to additional brain-boosting compounds like dimethylethanolamine, this formula delivers concentrated support for maintaining mental acuity and rapid response times.*
Extend The Life Of Cells By Supplying Necessary Support For Their Ability To Replicate
Non-GMO, Gluten-Free, Clinically-Proven Formula
Pursue a healthy lifestyle with peace of mind — NeoGene is formulated without the use of genetically modified ingredients and is free of gluten and shellfish. All USDC products contain premium ingredients sourced from around the world and made in the USA in FDA-registered facilities operated by a quality manufacturer that holds numerous GMP certifications.
Furthermore, all U.S. Doctors' Clinical products are backed by our Advisory Board of Doctors.
Anti-Aging Multivitamin Complex
Folate: Folate is an essential part of human brain development in the womb — but its benefits don't stop at birth. As part of a healthy diet, folate-rich supplements may encourage strong cognitive function and memory in adults.* NeoGene provides over three times the basic daily value of folate for concentrated brain support.*
DMAE: Adequate levels of DMAE in the body can assist in the synthesis of neurotransmitters essential for maintaining robust cognitive function and promoting restful sleep and regular REM cycles.* 
Gingko Biloba: Ginkgo's use as a dietary supplement stretches back to traditional Chinese medicine. Rich in flavonoids, ginkgo leaves are now used worldwide as a supplement providing antioxidant support to the body.* When incorporated as part of healthy lifestyle choices, gingko may aid mental clarity and memory function in aging adults.*
L-Glutathione: Naturally produced by the liver, L-glutathione supports the development of healthy tissues, organs, and a robust immune system. This NeoGene Complex formula contains L-glutathione to supplement the body's natural levels while providing additional immune, liver function, eye health, and anti-aging support.*
NeoGene offers you 19 premier anti-aging vitality nutrients that have been studied by some of the most prestigious research universities in the U.S. and Europe, including Ginkgo Biloba, Hypericum Perforatum, the vital amino acids PABA and DMAE, Glutathione, Pyridoxine and other key nutrients that help support healthy aging. Now you can enhance your mood, hone your thinking and support a healthy heart with NeoGene. It's perfect for both men and women!
Feel the invigorating power of youth, with NeoGene anti-aging vitality formula.