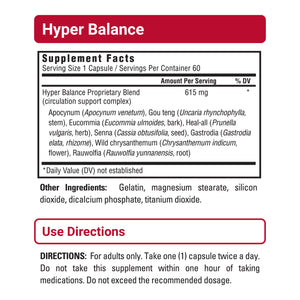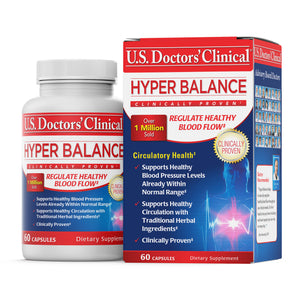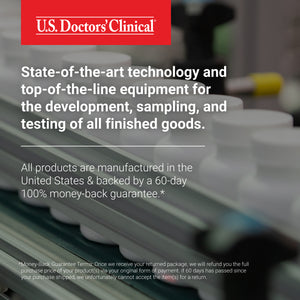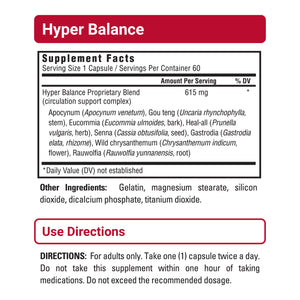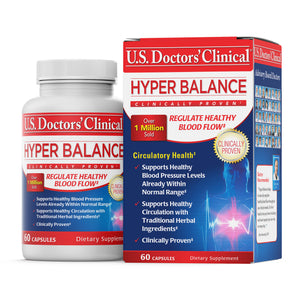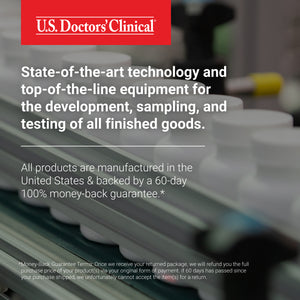 Backed by science: Read our clinical study on how HyperBalance can support healthy blood pressure levels.
Natural botanical extracts from Traditional Chinese Medicine Provide Support for Maintaining Healthy Blood Pressure and Circulatory Function*
Supports overall vein and artery health*
Encourages proper liver function*
Supports healthy inflammation responses in the circulatory system*
Antioxidant aid for cellular health*
Natural support rooted in traditional herbal medicine*
Aids Healthy Blood Pressure Levels Already Within Normal Range
HyperBalance is a great partner on the journey to maintaining healthy blood pressure levels. Thanks to its carefully selected proprietary blend of traditional herbal compounds, HyperBalance provides support for arteries, veins, the liver, and the circulatory system as a whole.*
Made in the United States
This product is made in the USA in our cGMP (current Good Manufacturing Practices) certified facility that is audited for quality control by independent organizations including NPA, NSF, and UL.
Crafted from High-Quality Herbal Ingredients
U.S. Doctors' Clinical uses only the highest quality ingredients for your peace of mind and wellbeing. Each component of the HyperBalance formula was chosen for its ability to support healthy blood pressure levels and circulation both on its own and in tandem with the other herbs in the formula.*
Traditional Herbs for a Modern-Day Lifestyle
Heal-All — Also known as Selfheal, the Prunella Vulgaris herb is rich in antioxidants and supporting inflammation compounds. As part of the HyperBalance formula, Heal-All adds beneficial support to aid the maintenance of normal blood pressure and healthy cholesterol levels.
Rauwolfia — The beneficial alkaloids in rauwolfia support overall vein and artery health. High blood pressure can increase the circulatory system's workload, and Rauwolfia provides assistance in regulating effects by encouraging healthy nerve impulses and normal circulatory system support.* When coupled with a healthy lifestyle, Rauwolfia can support continued healthy blood pressure levels.*
Eucommia — This tree bark contains compounds that may aid in supporting epinephrine balance, a hormone produced by the body that may contribute to high blood pressure.* Eucommia also provides healthy inflammation response support to the body.*
Cat's Claw and Chrysanthemum — Also known as Gou Teng, Cat's Claw is a herb commonly used in traditional Chinese remedies that support healthy blood pressure.* Cat's Claw is often paired with Chrysanthemum to enhance this effect further. HyperBalance includes both Cat's Claw and Chrysanthemum to provide maximum support for maintaining proper blood pressure levels and a healthy circulatory system.*
Gastrodia — The Gastrodia plant traditionally appears in liver-supporting herbal treatments, and provides additional beneficial liver support in the HyperBalance formula.*
Apocynum — Long used in traditional Chinese herbal remedies, Apocynum is a herb that can aid in positive effects of blood flow pressure in the body, as well as provide antioxidant support.*
Natural Herbal Support for Healthy Blood Pressure
HyperBalance is a dietary supplement that includes natural herbs known for their beneficial properties, including potential stress-reducing effects and supporting the maintenance of healthy blood pressure levels. The botanical extracts in HyperBalance come from centuries of Traditional Chinese Medicine remedies. U.S. Doctors' Clinical carefully selected each herb for its individual properties and its ability to support the overall formula, creating a proprietary blend found only in HyperBalance.*
Healthy Circulation — The herbal ingredients in HyperBalance support healthy inflammation processes and provide positive stress support on veins and arteries for comfortable circulation through the whole body.*
Liver Support — HyperBalance includes herbal compounds traditionally used to support a strong and healthy liver, which in turn supports blood sugar levels in the circulatory system.*